Om m'n irritatie over de gang van zaken bij de landrush van de numerieke domeinnamen in Nederland van wat substantie te voorzien heb ik even met wat gegraaf wat getallen op een hoop gegooid.
Ik heb gekeken naar de domeinnamen 0.nl tot 99999.nl, met 00001.nl enzo erbij. Dat zijn in totaal 111110 unieke domeinnamen. Daarvan zijn 11245 namen daadwerkelijk geregistreerd, het grootste deel tussen 0000 en 9999. Van die 11245 zijn er 10096 bij twee partijen terecht gekomen. 90% van de geregistreerde 'name-space' is in handen van twee partijen. De een heeft een lange reputatie als domeinnaam-kaper en de ander schept luidkeels op over hoe slim hij het wel niet aangepakt heeft. In totaal zijn er 108 deelnemers in geslaagd een domeinnaam te registreren in het stukje 'name-space' waar ik naar gekeken heb.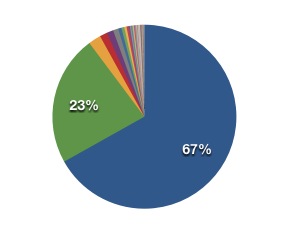 Met 108 deelnemers in een veld van 11245 domeinnamen verwacht je een redelijk neutrale verdeling van toegewezen domeinnamen. Niet iedereen zal voor 'alles' gegaan zijn, maar specifieke namen willen, en dus enkele puntjes scoren, andere deelnemers gaan voor alle netnummers van Nederland of andere lange reeksen en scoren tientallen of zelfs een paar honderd punten. Maar de verdeling zoals die nu tot stand gekomen is, is in mijn ogen een duidelijk teken van fraude.
(20:44: iemand wees me op de verwisseling sunrise/landrush. Die fout heb ik de afgelopen maanden al duizend keer gemaakt. Maar: aangepast.)