Ik kreeg mail van Vodafone, of ik mezelf even van hun lijstjes af wil halen, anders gaan ze lekker door met spammen. Prima, nooit te beroerd voor, en aardig dat ze het vragen. Dus ik klik op het linkje en krijg deze waarschuwing voor m'n neus: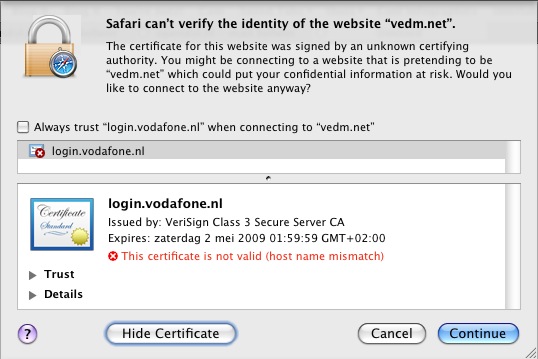 Dus ik kan me niet uitschrijven, want ik ga niet het risico nemen dat er iets aan de hand is met dat 'vedm.net', want een bedrijf als Vodafone moet dat soort dingen gewoon op orde hebben.
De consequentie is dus wel dat ze me gaan spammen en dus de spamfilters ingaan. En papieren rekeningen sturen ze al niet meer, dus ze hebben een probleem.
Tijd voor een andere telco dan maar? Of zou de rest even dom en slordig zijn?