Posted by ruben on 2008/05/11
Comments Off

on hoe snel neemt google blogpostings op?
Ik ben in een usenet-discussie verzeild geraakt. Even als demonstratie van hoe snel google kan zijn als je je zaakjes een beetje op orde hebt:
On 2008-05-11, Teun <teun19900909@hotmail.com> wrote:

1) Nee nee, dat is appels met peren vergelijken en nog onjuist ook.
http://www.nutz.nl/ is een bestaande site, geen nieuwe.

De posting is nieuw.

2) De 'In cache' staat op 5 mei 2008 13:10:23 GMT en het is nu 11 mei. Dat wil zeggen dat de spider al 6 dagen niet meer is langsgekomen. Het is puur toeval dat je laatste update al na 46 uur werd toegevoegd.

De spider komt pas weer als ik een nieuwe posting doe. sitemap.xml.gz zorgt daarvoor. Ik heb sinds m'n laatste posting een keer of vijf 304 NOT MODIFIED tegen een google-machine geroepen. Als ik dit post, komt binnen korte tijd de spider langs en indexeert het artikel. Dat ga ik nu even voordoen, als illustratie.

—

Ruben

Harrison's Postulate: For every action, there is an equal and opposite criticism.
Als ik nu op 'publish' klik wordt er een nieuwe sitemap.xml.gz gemaakt, google wordt daarvan op de hoogte gebracht, en meestal komt een paar minuten later er al een spider langs. Eens kijken of dat deze keer ook zo vlot gaat.
(Edit: grofweg een uur dus.)
Posted by ruben on 2008/04/08
Comments Off

on soms kan ik microsoft echt de hel inwensen
Dus je installeert office-2008 voor de mac, omdat 2004 een onvoorstelbare draak is die minuten nodig heeft om te starten, en 2008 belooft een stuk sneller te zijn. Nog voordat je klaar bent met installeren is dit het eerste zichtbare effect: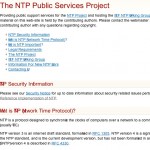 De pagina doet even niet ter zake, het gaat om de verminkte tekst. Vervolgens mag je nog eens zo'n 400 megabytes aan updates ophalen, en het installeren daarvan duurt langer dan het installeren van office 2008 in de eerste plaats. 
En dan vragen ze zich bij Microsoft af en toe verbaast af waar die afkeer toch vandaan komt.
Rot toch op met die crap, stelletje monopolistische kutmongolen!